White-Handed Gibbon (Hylobates lar)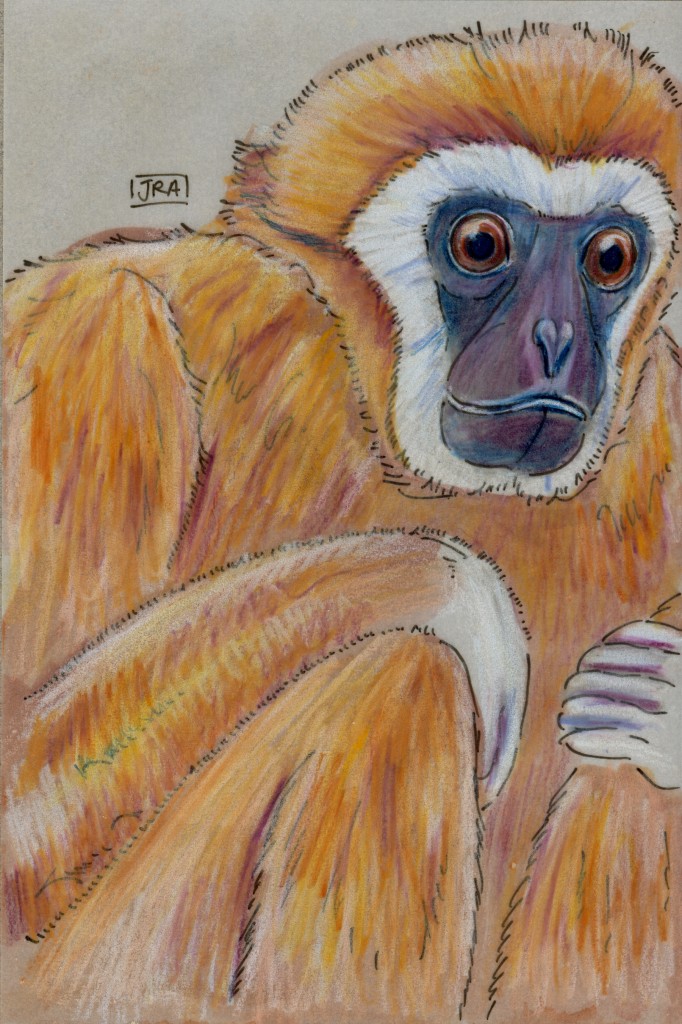 The white-handed gibbon, also known as the lar gibbon, is an endangered rainforest ape that lives in southeast Asia, from Sumatra and Malaysia to Myanmar, Thailand, and possibly part of China, although they're likely extinct in that country. These gibbons are endangered because of their popularity in the pet trade, but especially because of deforestation and the disappearing rain forests.
I'm considering adding a small feature to the Daily Mammal sidebar in which I keep a running list of my favorite new-to-me biology words. In addition to crepuscular, fossorial, scansorial, pelage, tragus, and amberat, we now have brachiation: the act of traveling by swinging from branch to branch, something that white-handed gibbons are extremely good at. They are so good at it, in fact, that you should marvel at their brachiatory (I made that one up) skills by watching this video from ARKive. I love how they fall down through the treetops, making a giant crash through the leaves and hooking onto the next branch at the last second.
Just recently, gibbon researcher Thomas Geissmann published a paper in which he described a rare and lovely discovery: a captive female white-handed gibbon had mastered the use of a tool, specifically a musical instrument, or rather more specifically, a slamming door that she used as a musical instrument. White-handed gibbons (and other gibbons) are known for their haunting songs, which they sing in male-female duets. At the same place in her song each time she sang it, this particular gibbon would punctuate the melody with a percussive bang from the wooden door to her sleeping box. She almost never sang the song without the slam, and she almost never slammed the door when she wasn't singing. You can read more about her and listen to her song (complete with the slam) in this BBC article. (Check out their caption for her portrait: "The all-singing, door-slamming, female white-handed gibbon." It's got a rhythm to it.)