Random Week: Rakali (Hydromys chrysogaster)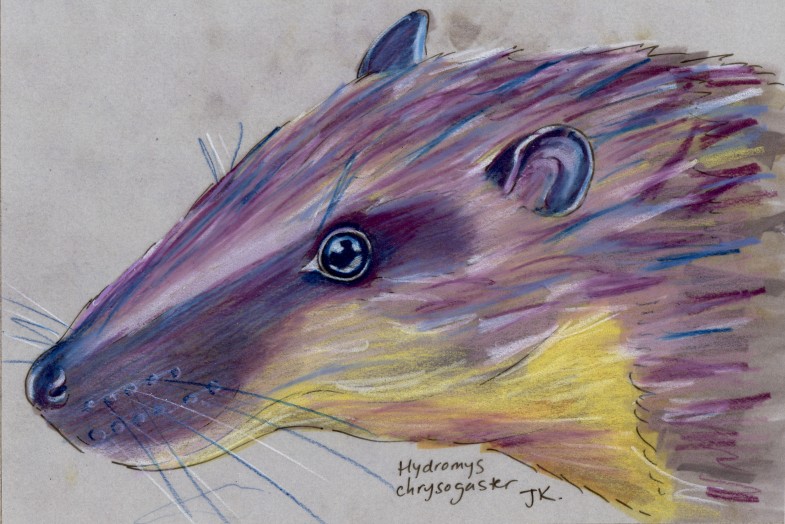 Today's lottery winner, picked by random.org, is the water rat or rakali, an interesting rodent from Australia. The rakali is one of Australia's two amphibious mammals, the other being the platypus, and in fact, people often think they're watching a platypus when they're really looking at a rakali. Both animals live in burrows dug into the banks of rivers, lakes, irrigation ditches, ponds, and so forth. Sometimes they'll even live in the same burrow, though not at the same time. In some ways, the two species compete, but the rakali has more options for food because it has a snout and teeth, not a bill. (The rakali's favorite meals include frogs, fish, crustaceans, mice, and eggs.) Rakali are about a foot long, not counting their tail, which adds about another foot.
My book Furred Animals of Australia by Ellis Troughton, which was published in 1947, says that rakali are particularly interesting "because their remarkable adaptation for aquatic life has evolved almost entirely within Australia, thus providing not only a unique example of rodent specialization, but also definite proof of an ancient rodent invasion of the continent." (Of course, in the 65 years since, this may have been disproven.) Some of the rakali's aquatic adaptations include its streamlined head and webbed feet. It doesn't, however, have water-resistant fur, unlike the platypus, and so it can get pretty cold when it swims in the winter.
The word rakali is an indigenous name that was adopted in the 1990s as part of an effort to give Australia's native animals native names. Previously, it was known as a water rat or a yellow-bellied water rat, which sounds like a folksy insult from the old west.
In Australia, all native animals, including the rakali, are legally protected. Speaking of such protections, Troughton writes, "In these ways alone can survival be assured for many of the ancient inhabitants of the Australian continent. Such measures of protection will be appreciated by all true naturalists as indicating a new hope for the future of the fauna."
Coco drew a rakali, too! She is so good.