Japan Benefit: ニホンザル (Japanese Macaque) (Macaca fuscata)
This week's drawings, by me and by Coco, are for sale to benefit animals and people affected by the earthquake and tsunami in Japan! If you buy a drawing, we'll give half of the purchase price to the American Red Cross and half to Animal Refuge Kansai, an animal shelter in Japan. You can select a matted drawing or leave it unmatted. Unmatted, they're 6″x9″ in colored pencil and marker on vellum. The mats are 9″x12″ and black. On to today's monkey!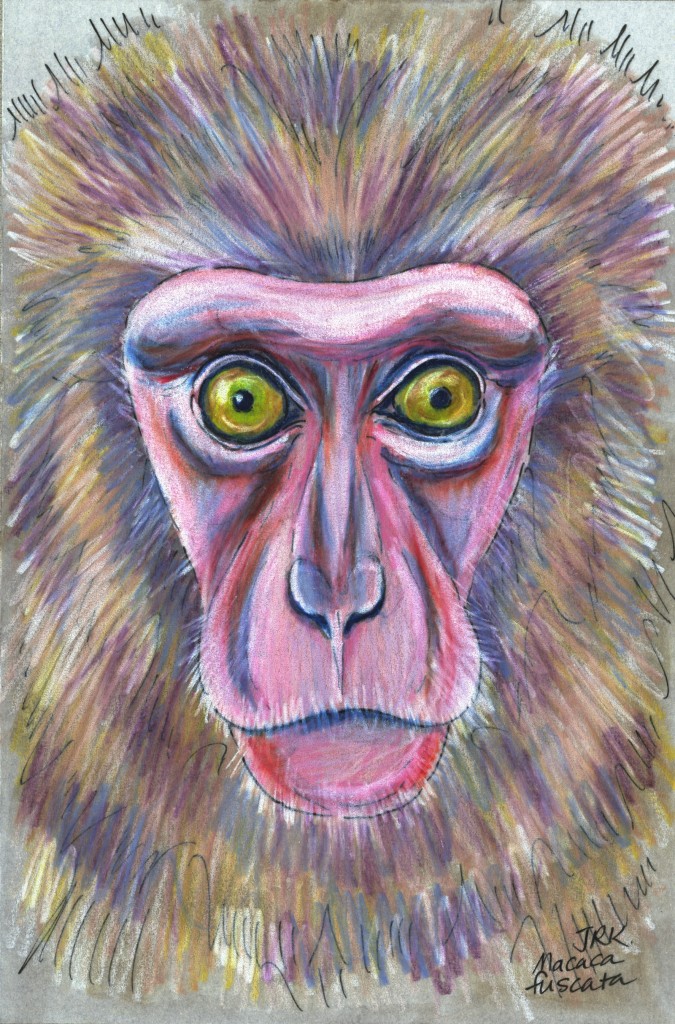 This drawing has sold!
The Japanese macaque is also called the snow monkey. They're the guys you see relaxing in hot tubs and hot springs like this: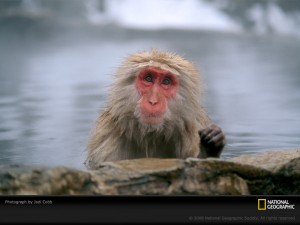 (That photo, as you no doubt noticed, is from National Geographic.) I wish there were Japanese macaques at Ten Thousand Waves, our local Japanese-style spa. It would be the perfect addition for the transporting atmosphere. Except I can imagine that they're pretty noisy, and that might not be relaxing. Here's a pretty fascinating article about why the macaques started hanging out in hot tubs, along with why they started playing with rocks and washing their sweet potatoes and wheat. The big trendsetter there was an 18-month-old baby girl monkey!
Here is Coco's Japanese macaque. You should consider buying it to help Japan: all her other drawings have sold out. Collectors are lining up, people.
Coco's drawing has sold!
My Japanese squirrel is still available for sale, too, and if you're not big on art but you'd like to help the American Red Cross and Animal Refuge Kansai, consider clicking the button below. We'll put your contribution into our fund.