Japan Benefit: テン (Japanese Marten) (Martes melampus)
This week we're selling our drawings to benefit Japan! You can buy an original drawing by me or by my daughter Coco, we can mat it for you or leave it as-is, and the best part is that not only do you get a unique work of art, you also get to help people and animals affected by the tsunami and earthquake of earlier this month. We'll split the entire purchase price in half, giving 50 percent to the American Red Cross and 50 percent to Animal Refuge Kansai, an animal shelter in Japan. Today's mammals have sold, but we'll post more tomorrow, and my squirrel from yesterday is still available, too. Please help, and please send your friends over, too!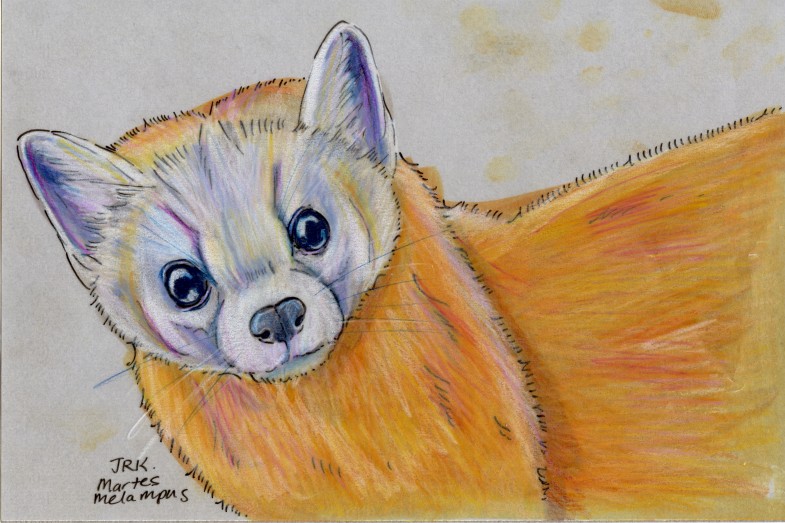 SOLD, but please come back tomorrow!
The Japanese marten is a member of the mustelid family, which includes weasels, badgers, minks, ferrets, and otters—mustelids are those cute-yet-vicious little stinkers (sometimes literally) with pretty fur, beady eyes, and sharp teeth and claws. This marten lives in forests, but also sometimes in suburbs and residential areas, and Animal Diversity Web calls it an "opportunistic generalist" when it comes to food: it eats fruits, berries, and insects in the warm months and small mammals and birds all year long.
SOLD, but please come back tomorrow!
Some of these guys have the most beautiful orange coloring, while some are a more dull brown. Coco and I both drew the orange variety. If you like their sharp little faces and tangerine-colored fur, please consider buying one of our drawings. (I recommend snapping Coco's up while you have the chance—her previous two Japanese mammal drawings are already sold!) If you don't care for the drawings, perhaps you'd like to donate to our Red Cross/Animal Refuge Kansai fund anyway. You can do that by clicking the donate button below.
See you tomorrow for another Japanese mammal!