Bushy-tailed Olingo (Bassaricyon gabbii)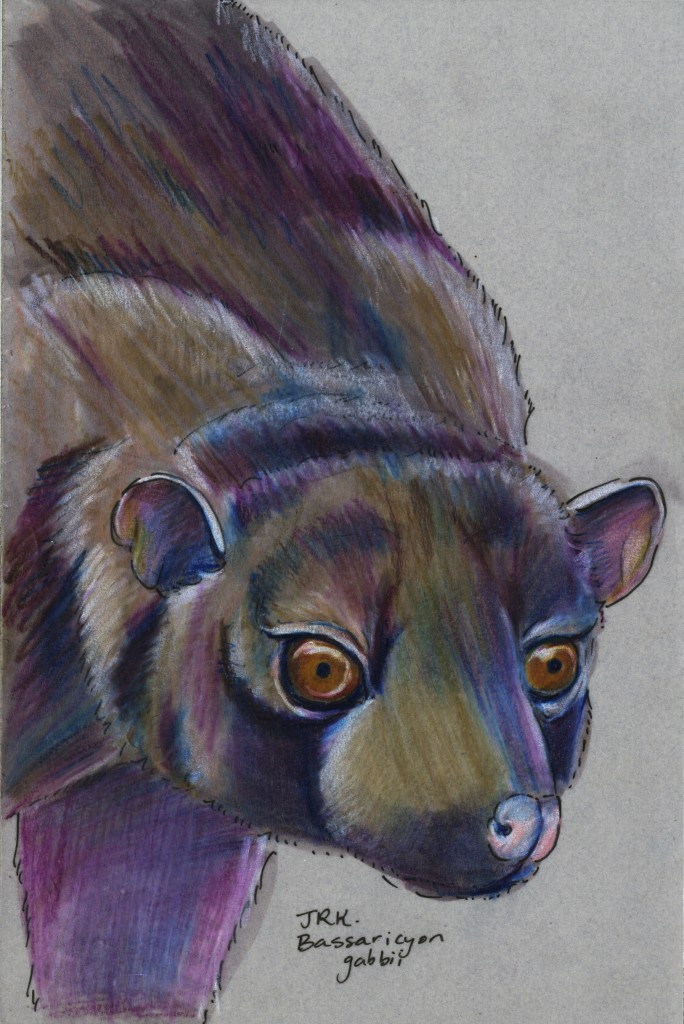 Sadly, my long mammal-posting streak was broken yesterday…because I jumped off a rock and broke my calcaneus, the big bone at the bottom of the heel. It hurts like mad! But while I recuperate, I will try to keep up the mammaling.
Today's mammal is the bushy-tailed olingo, which lives in Costa Rica, Panama, Nicaragua, Ecuador, and Colombia. It is a procyonid, putting it in the same family as the raccoons, coatis, kinkajous, and their friends. The bushy-tailed olingo's scientific name, Bassaricyon gabbii, comes from William Gabb (1839–1878), a paleontologist and geologist who collected natural history specimens in Central America for the Smithsonian.
The olingos caught my eye because of a characteristic Ivan T. Sanderson note on the genus in Living Mammals of the World:
"Of all idiotic scientific names for an animal this takes the cake: it means literally the 'Fox-dog' or 'Dog-dog' as bassara is an ancient Thracian word for dogs and foxes, and kyon meant a dog in classical Greek. The animal in question has caused a great deal of confusion in scientific records, completely bamboozles the nonspecialist, is usually overlooked, is seldom represented in museum collections, and yet appears to be fairly common."