Two Indian Bats (Megaderma lyra and Pteropus giganteus)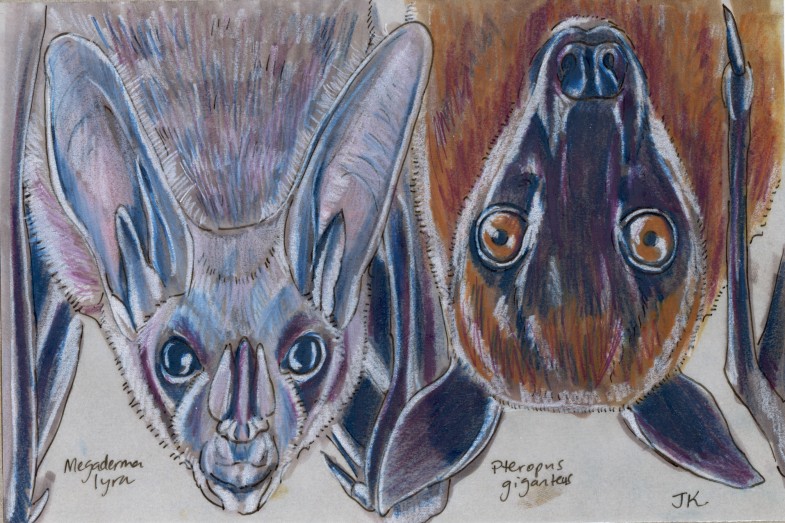 Here are two bats, the last mammals we'll visit in our mini-trip to India. On the left is the Indian false vampire bat, Megaderma lyra, also known as the greater false vampire bat, and on the right is his friend (only not really) the Indian flying fox, Pteropus giganteus.
False vampire bats have that name because in the past, people thought that they fed on blood, like vampire bats do. For a while, all bats that had large canine teeth were called vampires, according to this article from Bat Conservation International. Unlike most bats, who dine on fruit, nectar, or insects, the false vampires are carnivores, and this particular one, the Indian false vampire bat, has been known to drink its prey's blood before going on to the main course of flesh. Just about any flesh will do: these bats like to eat frogs, fish, birds, rodents, insects, spiders, and even other bats. They bring their meals back to their roost to eat.
The Indian flying fox, on the other hand, eats fruit. Actually, it drinks the fruit's juice, then spits out the pulp and seeds, unless it's a particularly soft fruit like a banana. After getting its fill, the bat rests at the fruit tree for a few hours before returning home to the roost.
The IUCN lists both of these species as being of "least concern," although it does say that the flying fox is "one of the most persecuted fruit bats in South Asia" because fruit farmers consider it vermin and it is also hunted for food and medicine.