Two Beautiful Squirrels (Callosciurus prevostii, C. finlaysonii)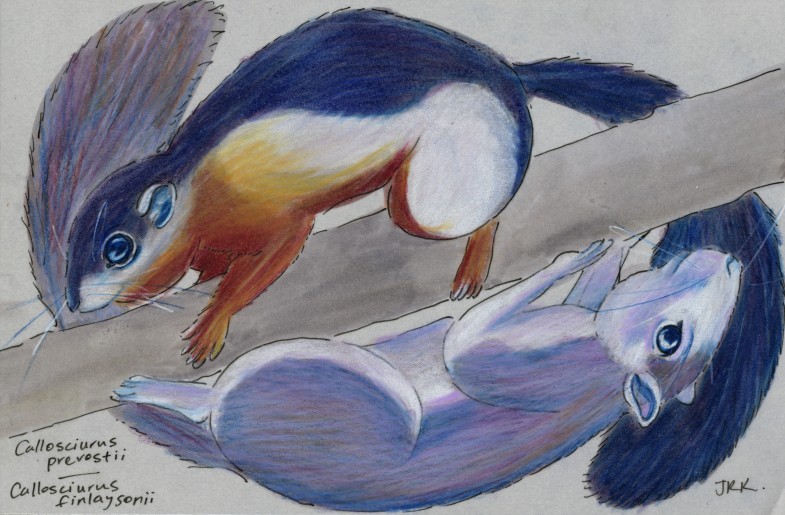 Well, mammals, we made it! Mammal Number 365 is here, with his buddy Number 364, ready to meet you and celebrate a year's worth of Daily Mammals, completed on average once every four days, which doesn't sound too bad, until you do the math and realize that at that rate, it will take me an additional 52 years to draw all the mammal species. In 52 years, I'll be 85. Will you still be visiting my website? I hope so! (Will there still be websites?)
Thank you for visiting and meeting my mammals, even if I am a little slow in getting them to you. I appreciate every one of you wonderful viewers and readers, whether you post comments or not, whether you come once or every day, whether you're related to me or a stranger. Thank you! This project is rewarding on its own, but it's even better with company. Thank you, especially, for sticking with me through the long hiatuses.
I write today's post from my bed, where I'm hopped up on oxycodone for my broken calcaneus. I don't have my mammal books in here, so this entry will be a tad thin on facts. When I called these squirrels beautiful, I wasn't bragging about my drawing. The Latin name of their genus, Callosciurus, means "beautiful squirrels," and each species in this genus has striking colors or markings, like these two. Both of these species live in Thailand. Prevost's squirrel also calls Brunei, Indonesia, and Malaysia home, while Finlayson's hangs out in Cambodia, Laos (which is officially called Lao People's Democratic Republic), Myanmar, and Vietnam.
Florent Prévost, whose name one of these squirrels bears, was a French naturalist and artist, and George Finlayson, namesake of the other squirrel, was a Scottish naturalist and surgeon. I've recently started looking up some of these mammals' names in the Eponym Dictionary of Mammals, or rather its Google Books preview. It's a new book, out in 2009, and it costs $65, which is not in my budget right now. My public library doesn't have it, but it does have a copy of my other favorite resource for learning about the names of mammals, A.F. Gotch's Mammals: Their Latin Names Explained. That one is from 1979 and is out of print. I know I've mentioned it several times on this site, and I check it out from the library every now and then.