Rats Three Ways (Neotoma spp.)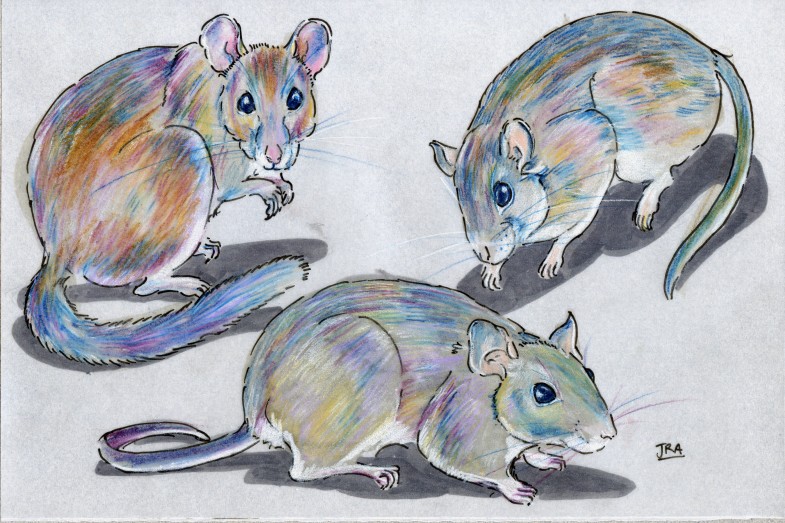 Numbers 0246, 0247, and 0248
Here are three rats for you! They're in the wood rat or pack rat genus, Neotoma. Clockwise from the top left, we have N. cinerea (bushy-tailed wood rat), N. floridana (eastern wood rat), and N. lepida (desert wood rat). Wood rats are also sometimes called trade rats. Mammalian Species quotes a 1946 guide to the mammals of Nevada:
"It is supposed that when one of these rats carrying an object of its fancy comes to another more attractive object, it drops the first and continues on its way with the second. If the second object be the watch of a camper, who in the morning finds a piece of old bone where the watch lay when the camper went to sleep the evening before, he will think the name trade rat appropriate."
Just, you know, hypothetically, right?
There are two words related to wood rats that you may not know. Both could prove useful in describing, say, someone's housekeeping. Middens means a pile of bodily waste or a dunghill. Amberat is a deceptively beautiful word meaning crystallized rat urine. (I don't know if it's a portmanteau from amber and rat, but I hope so. I really love this word.) Here, in a book about the Grand Canyon, is a chapter all about amberat, and here is a photograph of it at UtahCaver.com. Apparently, it has a red-gold color and can be built up to several inches thick. It may or may not have a sweet smell.
Amberat helps fossilize wood-rat middens for later examination by interested parties. Archaeologists have found rodent middens that are 50,000 years old. The rats use the same middens for generations, so there's all kinds of intriguing stuff in there. At Mesa Verde, they've found middens that show signs of exposure to smoke, suggesting that the wood rats coexisted with the Anasazi.