Proboscis Monkey (Nasalis larvatus)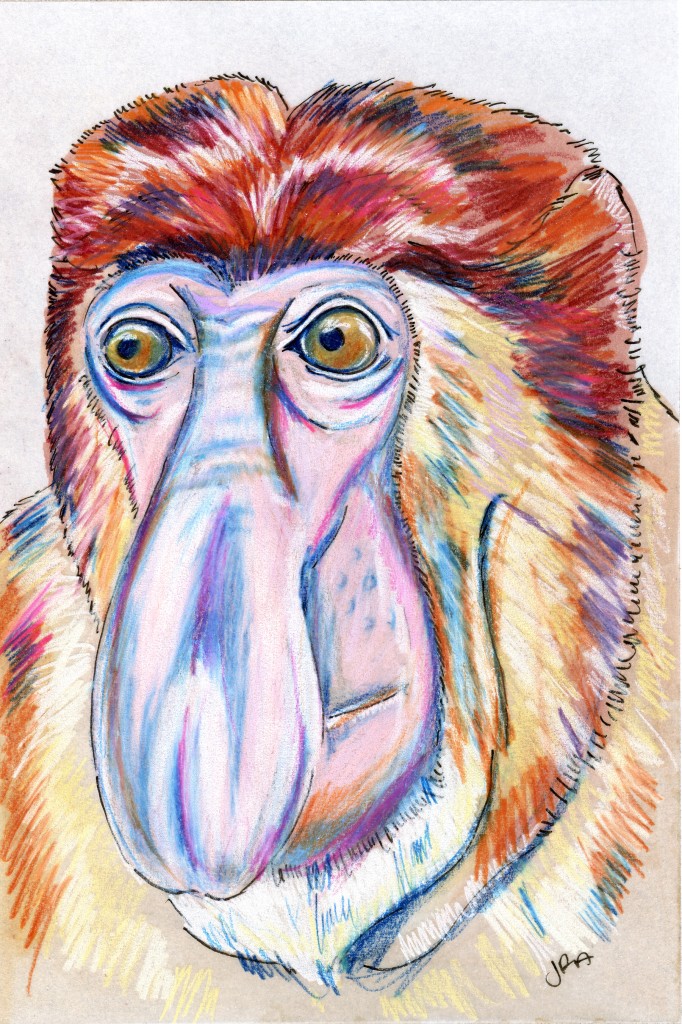 Well, here's a good opposites-attract companion for yesterday's tiny-nosed Tonkin snub: the proboscis monkey, which lives only in Borneo. You will have noticed his floppy nose (and it's only the males who have such gigantic honkers), but you probably don't want to stare. It's okay: I bet this monkey feels about his schnozz the same way Edmond Rostand's Cyrano felt about his: "…[B]e it known to you that I am proud, proud of such an appendage! inasmuch as a great nose is properly the index of an affable, kindly, courteous [mammal], witty, liberal, brave, such as I am!"
The proboscis monkey is not only witty and brave (maybe). It's also a good swimmer, a skilled diver, and a maker of distinctive sounds variously described as howls, growls, or honks. Sadly, it's quite endangered, too, thanks to traditional medicine, the bushmeat trade, and habitat destruction: the usual suspects.
I think these monkeys are quite charming with an endearing look to them, but the most common word the 19th- and early 20th-century naturalists used to describe them was "grotesque." Here are some passages you may enjoy.
From The Naturalist's Library by William Jardine, 1833:
"This singular monkey is at once distinguished by the extraordinary elongation of the nose, which is nearly four inches in length, and gives a grotesque appearance to the animal, at the same time far from pleasing."
From The Living World by James William Buel, 1891:
"The Proboscis Monkey…resembles a shrivelled, bowed, long-nosed, little old man or woman, and is sacred in the eyes of the natives. Its noisy outcries, malignant disposition and fondness for irritating mischief, seem to add a fresh illustration to the truth that the uncivilized animal nature is perfectly unfit for the government of self or of others."
From The Evolution of Man by Ernst Haeckel, 1903:
"…the well-shaped nose of which might well be coveted by men in whom this organ is too short. On comparing the face of this nosed monkey with that of specially ape-like human beings (e.g., the noted Julia Pastrana, Fig. 126), the former will appear a higher form of development than the latter. There are many persons who believe that the 'image of God' is unmistakably reflected in their own features. If the Nosed-ape shared in this singular opinion, he would hold it with a better right than some snub-nosed people."
Finally, an illustration from the first book quoted above, The Naturalist's Library (1833) by William Jardine. I love this illustration.