North Carolina Week: Star-Nosed Mole (Condylura cristata)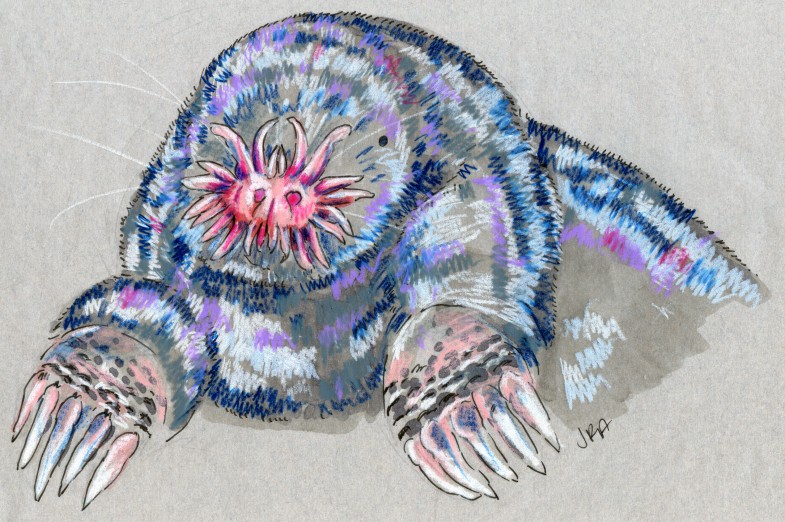 Continuing with the mammals of North Carolina theme, allow me to introduce you to the star-nosed mole. This fascinating fellow, as you cannot but help to notice, has 22 finger-like appendages on the end of his snout. Star-nosed moles use their "stars" to touch and sense their surroundings, as well as to cover their nostrils when they're burrowing, keeping dirt out.
The appendages that make up the star are hairless and covered with tiny protuberances I'd never heard of called Eimer's organs. Here's how Animal Diversity Web describes the star-nosed mole's Eimer organs:
Each Eimer's organ contains 3 types of tactile receptors, 2 of which are found in the skin of other mammals. The third type is unique to the star-nosed mole and is thought to allow the mole to identify objects by their microscopic texture.
Isn't that amazing? It can identify objects by their microscopic texture! Star-nosed moles are also semi-aquatic, and get this: they (along with water shrews and possibly other aquatic mammals) can smell underwater! Basically, they blow bubbles out their nose and into an object, then quickly inhale the bubble back again, taking in the object's scent molecules in the process. (You can read here about how a very interesting scientist called Ken Catania figured all this out. His work with star-nosed moles actually earned him a MacArthur "genius" grant!)
Here's an article from the website of Vanderbilt University (home of Dr. Catania) about star-nosed moles. Scroll down to the pictures near the bottom, and you'll see three remarkable ones: a close-up view of a star-nosed mole's nose star, an illustration that exaggerates the size of the mole's body parts to indicate their relative importance with regard to the mole's brain, and an image of a star-nosed mole fetus.

Take this mammal home with you!