Mammalthon 2: White-Winged Vampire Bat (Diaemus youngi)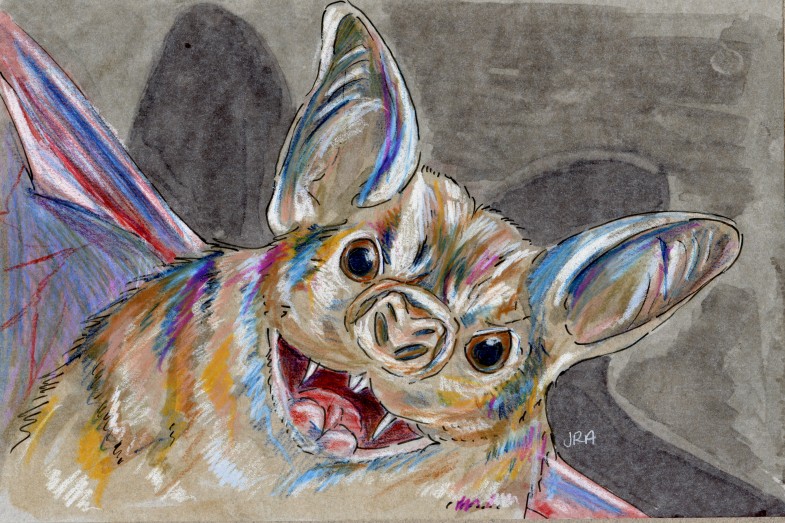 Good thing I drew this so early, while it's still light out, or we'd all be too scared to continue! It looks like this guy is in Joe's bedroom, getting ready to bite while Joe sleeps peacefully. Luckily for Joe, however, white-winged vampire bats get the blood they drink mostly from birds. When the white-winged vampire bat spots a likely target—perhaps an oblivious guinea hen resting on a branch—the bat slowly, carefully creeps along the branch until it can reach the bird's foot. It starts by licking the foot a few times, then makes an incision with its teeth. It then licks some more to get the blood. If the bird notices this and starts, the bat hides under the branch until the bird calms down and then continues feeding! This all lasts about 15 minutes, at which point the vampire bat flies away.
Check out New Mexico's own Rancho Transylvania, dedicated to a colony of white-winged vampire bats (they don't, however, live in New Mexico ordinarily, but rather in tropical South America). You will especially want to look at the photo gallery of baby white-winged vampire bats, which are extremely adorable, it turns out.
Now I must go have my own lunch. I think I hear a bird on the tree outside…
—————-
Now playing: Great Lake Swimmers – The Animals Of The World
via FoxyTunes