Mammals of New Mexico Week: Pronghorn (Antilocapra americana)
The 24-Hour Mammalthon has been rescheduled. It is now on May 3, 2008. There are still several slots available, so look over in the right-hand navigation bar and reserve your mammal today. It's for a good cause.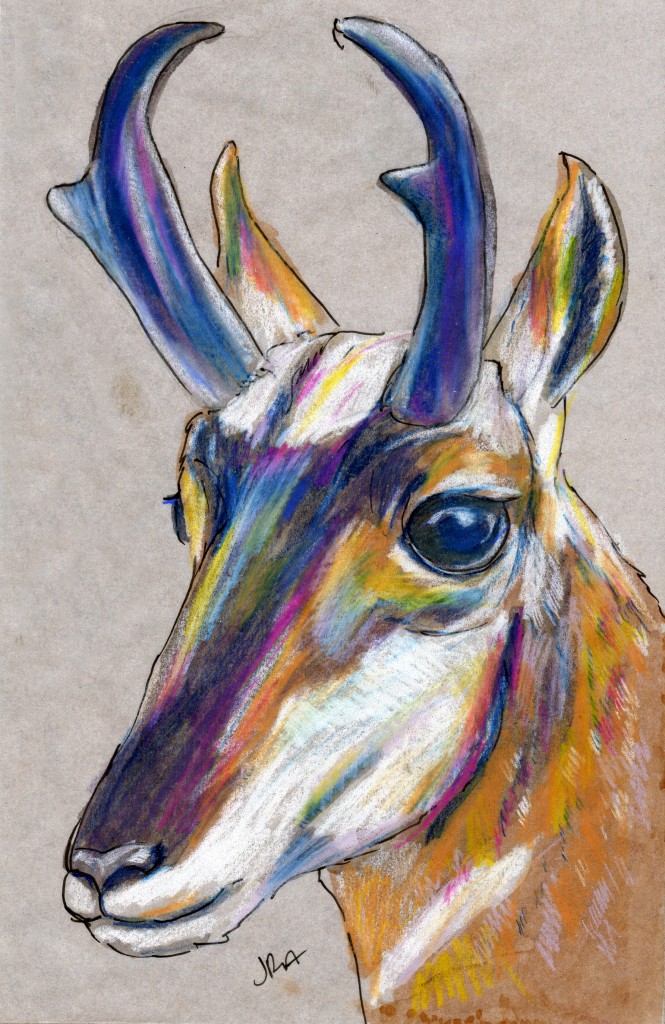 The pronghorn is often called an antelope, but it's not really an antelope. Another nickname for it is speed goat, but it's not a goat, either. In fact, it's in a class—or rather, family—of its own as the only member of the Antilocapridae.
There are antlers, like deer have, and there are horns, like cows and antelope have. Do you know the difference? Antlers are made of bone and are shed each year. Horns are made of compressed hair growing on a bony core and are permanent. Then there are what pronghorns have. Their horns are keratinous, like bovine horns, but they're branched, like deer antlers, and pronghorns shed them each year like deer do. In fact, no bovines are known to shed their whole horns the way pronghorns do. This seems to me to be the main factor that's keeping the pronghorn in its own separate family instead of among the bovines.
Before Europeans came to America, there were tens of millions of pronghorn here. Around the turn of the century, they were nearly killed off; now there are about a million left, it seems. The fastest land animal in the western hemisphere, pronghorn apparently evolved solely in North America, never migrating anywhere else. Ivan T. Sanderson has this to say:
Nothing at all like these animals is known anywhere; they are a solitary leftover from pre-glacial times, when their tribe was much more varied…In a matter of speaking, they are a sort of minor experiment in 'antelopes,' initiated by Nature and then dropped.
I take issue with the "minor" part. Seeing pronghorn on the flatlands of West Texas and southeastern New Mexico was one of the things I most looked forward to as a child when we'd drive from our house in Midland, TX, to see my grandparents in Tatum, NM. I have a vivid memory of seeing them jump over a barbed-wire fence, but everyone—including my dad and Ivan T.—says they can't jump fences. It must have been a daydream.
This pronghorn, along with the rest of the New Mexico mammals this week, is dedicated to the memory of Maleta Scrivner, a dear family friend who loved dogs and desert animals.