Mammal Olympiad: Long Jump: Merriam's Kangaroo Rat (Dipodomys merriami)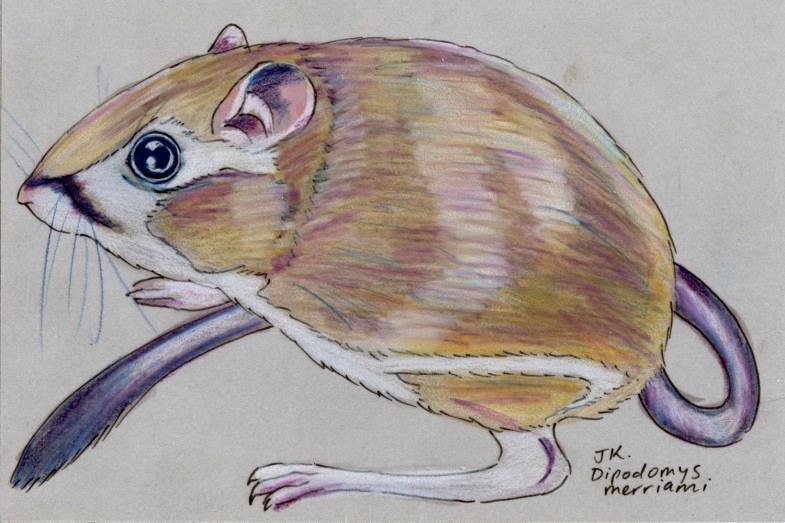 As the humans compete in the London Olympics, the other mammals have an Olympiad of their own here at the Daily Mammal! Today's mammalympian is an amazing long jumper, Merriam's kangaroo rat, which lives throughout the southwestern United States and in Mexico. It's nocturnal and solitary and eats mostly seeds, including the seeds of creosote, mesquite, and ocotillo.
This little rodent bounces along on its huge hind legs, using its long tail for balance. It's basically cantilevered over its back feet. It routinely jumps as far as six feet, which may not sound like much, but remember, the little rat's body is less than five inches long (the tail adds another five or so). That kind of leap is the equivalent of Mike Powell, the world-record human long jumper, jumping 99 feet instead of 29. Maybe he could jump that far if he had evolved a stupendous leaping ability to help him escape from predators such as owls, rattlesnakes, and coyotes.
Mike Powell set his world record in an astonishing long-jump duel with Carl Lewis at the 1991 World Championships in Tokyo. Carl Lewis hadn't been beaten at the long jump in a decade, having won 65 straight meets. Bob Beamon's long jump world record, which was almost two feet longer than the previous one, had stood for almost 23 years. Then in one night, Carl Lewis and Mike Powell both jumped farther than Beamon had. Lewis, however, had a little too much wind at his back, and so his jump didn't count toward the record. Even if it had, he wouldn't have held the record very long because Powell jumped even farther than Lewis in the very next round, and the wind had changed. Here is the TV coverage of the fourth and fifth rounds of their extraordinary showdown. Start at 1:50 to see the two world-record jumps, or watch the whole thing (and the other rounds)—it's incredible.