Japan Benefit: ニホンカモシカ (Japanese Serow) (Capricornis crispus)
Today begins our week-long Mammalthon to benefit Japan. As I'm sure you know, Japan was hit by a major earthquake and tsunami earlier this month. Tens of thousands of people have died, and hundreds of thousands have lost their homes. The Daily Mammal would like to do something to help in some small way.
Both of today's drawings have sold, but all week, Coco and I will be posting drawings of Japanese mammals. You can buy the original drawings and 100 percent of the purchase price will go to benefit victims of the Japanese earthquakes: half to the American Red Cross and half to Animal Refuge Kansai, a Japanese organization that's rescuing pets who lost their homes in the earthquakes and tsunamis.
You can buy just a drawing—mine are $50 and Coco's are $25—or get it matted for $10 more. We'll cover the shipping, and we'll send them all out at the end of the week. Please note that if you want a matted drawing, you'll have to wait an extra week or so because while I've ordered mats, I don't have them yet.
Click the "Donate" button at the bottom of this post if you'd just like to donate to our fund without buying a drawing.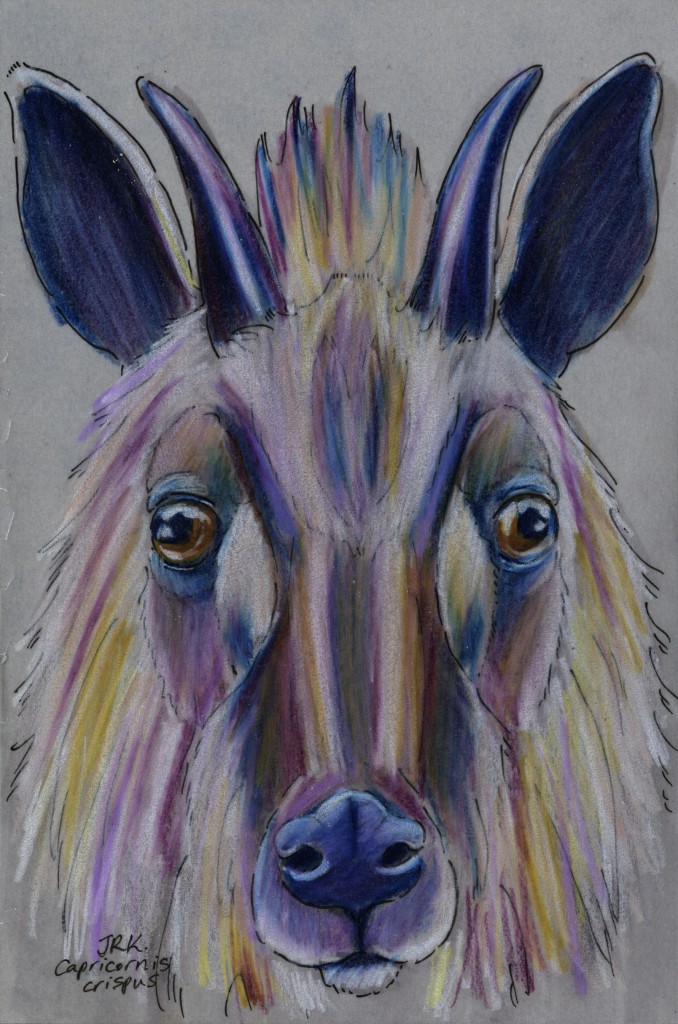 Today's mammal is the Japanese serow, a goat-antelope that is endemic to the mountains of Japan. It's particularly widespread on the islands of Honshu and Shikoku. The IUCN says it's a species of least concern. As I've been researching and drawing these wild mammals, I've been wondering about how they've been affected by the earthquakes. I don't think anyone's had the time to find out yet. Here's Coco's drawing of the serow:
Japan designates certain places, minerals, plants, and animals as natural monuments deserving of recognition under the country's laws that protect cultural properties. There are about 1,000 so designated natural monuments, and 75 of them are further classified as special natural monuments. The Japanese serow was named a special natural monument in the 1950s. At least one of the other species we'll be meeting this week also has this prestigious designation.