Indochinese Flying Squirrel (Hylopetes phayrei)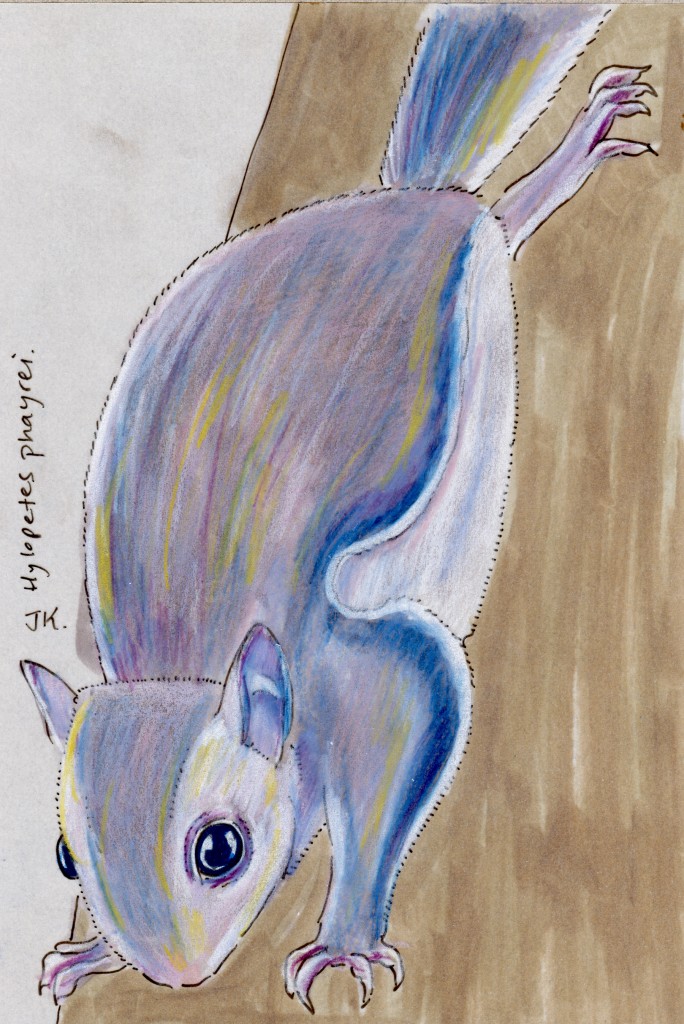 I let random.org pick the mammal today, and a little flying squirrel turned up (a rodent, of course!). This guy lives in China, Vietnam, Thailand, and Myanmar (Burma). I can't find much information about it, in my books or online, and to find most of my reference photos, I had to search for the Thai name, which seems to be กระรอกบินเล็กแก้มขาว.
The squirrel is also known as Phayre's flying squirrel. The Phayre in question is Sir Arthur Purves Phayre, an officer in the British Army who worked mainly in Burma, then a British colony, including serving several years as commissioner of Burma under Queen Victoria. He also ruled as the governor of Mauritius for a few years. Phayre wrote the first comprehensive English-language history of Burma, which you can read here. The Dictionary of National Biography, published in 1896, says, "Phayre was tall, dignified in bearing, and excessively courteous in manner. By his firmness, justice, and liberality he built up the great province of Burma, where his name became a household word." John Ebenezer Marks' book Forty Years in Burma has this to say about Phayre:
"On my arrival in Rangoon my old friends very cordially welcomed me, and gave me the most kind and valuable assistance with regard to the new Mission. Especially was this the case with that noble ruler, Sir Arthur Purvis Phayre, the first Chief Commissioner of British Burma. Under him the three provinces had just been united, and the foundation laid of that prosperity which has ever since been characteristic of Burma.

"He was a grand type of the British ruler. He loved the people whom he governed, and they reciprocated his affection. He was a good Christian man, the helper and supporter of every good work. To myself personally he was more than a friend, ever ready with his advice and means to assist in the Mission."
Phayre is commemorated not only in this squirrel's name, but also in the names of a tortoise, three birds, and two other mammals. A main street in Rangoon (Yangon) was once named after him, but now it's called Pansodan. Here is a painting of Phayre with an ambassador of the King of Burma when they visited Calcutta in 1854.
And here is a watercolor portrait of Sir Arthur by Colesworthy Grant, painted in 1855.