Golden-rumped Elephant Shrew (Rhynchocyon chrysopygus)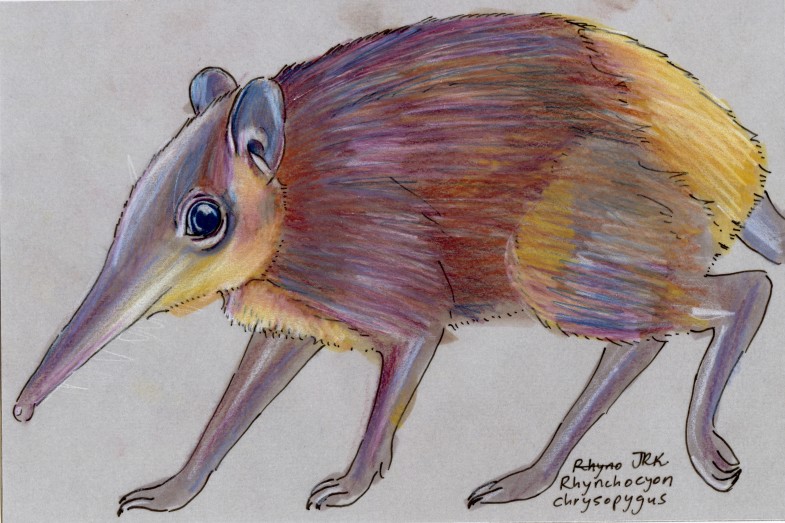 Here is the golden-rumped elephant shrew, which is also known as a golden-rumped sengi, or a yellow-rumped either one of those. It's not actually related to the shrews, although it is related to the elephants, distantly. Some things I've learned about this fellow:
1. Translating its scientific name at the website of a zoology course at the University of Alberta, I see that this sengi's official name means snout-dog golden-rump. (Pygos means rump, and is found in the word callipygian, "having well-shaped buttocks," which is one of those words that middle-schoolers delight in discovering in the dictionary.)
2. The rump is golden for a reason. That pretty blond fur covers a padded area of super-tough skin. The idea seems to be that predators will be attracted to the golden glow and bite there, rather than somewhere that might hurt more.
3. The golden-rumped sengi lives only in a tiny area of coastal Kenya.
4. It's number 46 on the EDGE list of the top 100 evolutionarily distinct and globally endangered mammals—in other words, this endangered species is particularly irreplaceable.
5. This elephant shrew is monogamous, which is quite rare for a small mammal, or indeed, any mammal.
6. It can be very difficult to distinguish between the members of the Rhynchocyon genus, also known as the giant forest sengis, in the field, but the California Academy of Sciences has a page dedicated to helping you tell them apart.
7. According to the American Society of Mammalogists' species account of this elephant shrew,
"If mildly disturbed, Rhynchocyon freezes until the danger passes, or, if further disturbed, it walks away while loudly slapping the leaf litter with its tail every 1 to 3 seconds. If pursued, Rhynchocyon takes flight using a swift half-bound gait…hammering the leaf litter loudly with its rear legs, and producing a characteristic "crunch, crunch, crunch" sound as it disappears."
8. The golden-rumped elephant shrew is diurnal, or active during the day, and spends its nights in a nest it builds on the forest floor. For some reason, it requires a new nest every other day or so. It builds the new nest in the morning, and the construction takes about two hours.
Below is Coco's golden-rumped elephant shrew. See you tomorrow!