Facebook Friends: Israel: Buxton's Jird (Meriones sacramenti)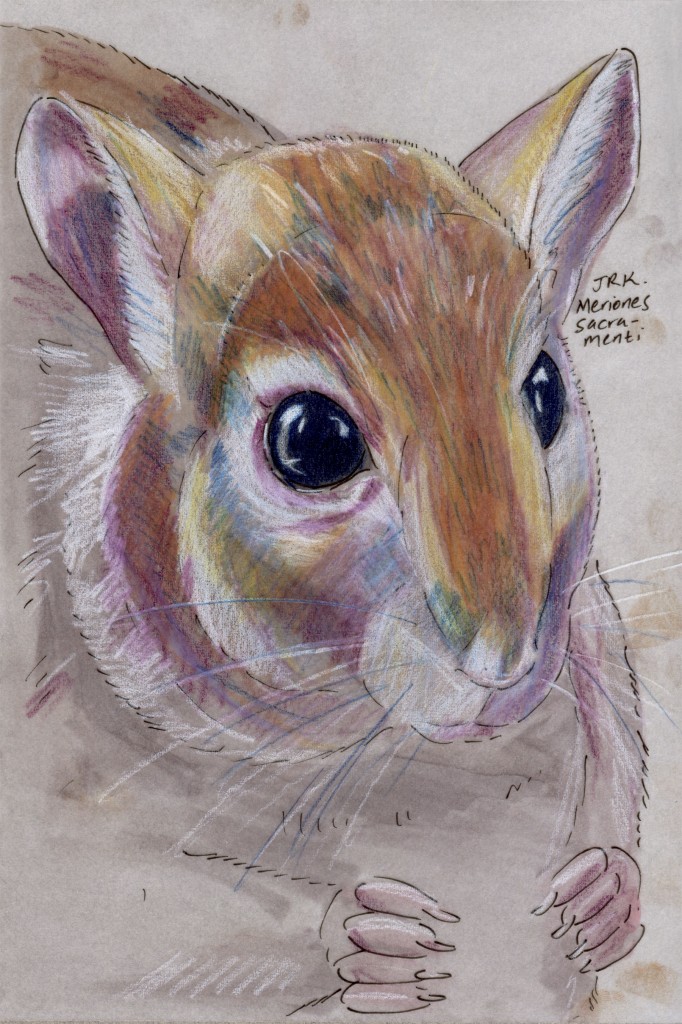 In celebration of the fact that more than 100 people like the Daily Mammal on Facebook, I've been drawing mammals from the countries where those people live. Today's is from Israel. This is Buxton's jird, also known as the Negev jird, for it burrows in the sand of the Negev, a desert region in southern Israel. Some sources say that it's the only mammal endemic to Israel, but the IUCN (which rates this jird as vulnerable on its endangerment scale) says that it's also to be found not only in Israel but occupied Palestine and Egypt's northern Sinai peninsula as well.
Jirds are rodents that are related to gerbils, and sometimes the two terms are used synonymously. They eat seeds, roots, fruit, vegetation, and insects. This one was described in 1922 by Oldfield Thomas and named in honor of Sir Edward North Buxton, a British hunter, politician, and conservationist who died the next year. Thomas, one of the most important mammalogists of his day, has many, many mammal species and a genus named for him, but we have met none of them yet here at the Daily Mammal. Threats to Buxton's jird, I understand, include urbanization, agriculture, drought, and invasive species like an Australian acacia tree that, once introduced to Israel, began altering the ecosystem.