Desert Shrew (Notiosorex crawfordi)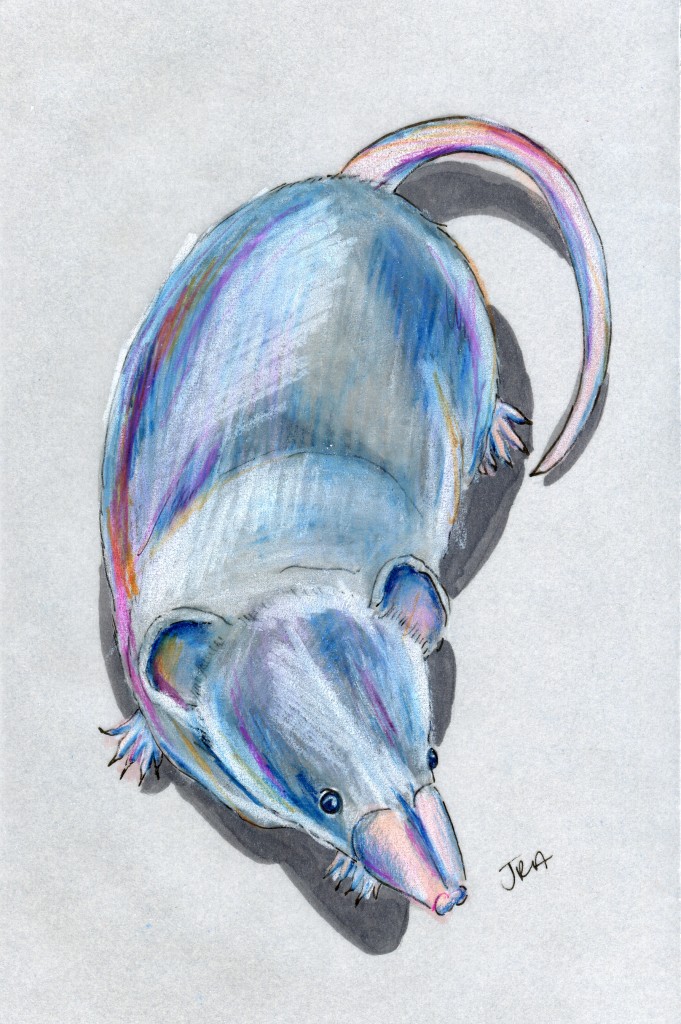 Well, haven't I learned something today. I use Walker's Mammals of the World, sixth edition, as a general reference for this project. It's a huge two-volume work, the most comprehensive in existence, and invaluable to me for sorting out taxonomic questions and getting basic information about species' habitats and habits. This edition came out in 1999, and the previous editions came out in 1991, 1983, 1975, 1968, and 1964. Looks like we're about due for a new one, right? And good thing, too! I picked this little shrew out of my Walker's the other day. It was listed as the only member of the genus Notiosorex. First thing I learn online is that now the consensus seems to be that there are actually four Notiosorex species, not one. Okay, that's nothing new around here, I can deal with that.
But then I go to look at the Wikipedia pie chart of the distribution of mammalian orders, remembering—I thought—that members of the order Insectivora constituted the third-largest group. Insectivora is one of the 28 orders in Walker's. It includes shrews, hedgehogs, and moles, shrews being in the family Soricidae. But the Wikipedia pie chart doesn't even list insectivores. Instead, the third-largest group, behind rodents and bats, is Soricomorpha, shrew-bodies.
It turns out that taxonomically-minded people are coming to a consensus that Insectivora, which Wikipedia calls "a scrapbasket," is in fact several separate orders—colugos in one, elephant shrews in another, hedgehogs and gymnures over there, etc., etc. Lord have mercy, but this has exploded my mammal-loving world. It's one of the most interesting things about this project, and biology and actually, I guess, science in general, the way no one even knows how many mammals there are, people can disagree on whether this species is really the same as that species, and it's always changing, but still, I was not expecting to lose a whole order, and one whose name I just learned to pronounce properly (stress on the third syllable).
Seventh edition of Walker's, where are you?
This shrew, a member of Soricomorpha, lives in the southwestern United States (including my home state, New Mexico) and in Mexico. They are way smaller than you'd think: only three or four inches long on average, including their tails. They're so small that they can actually hang out in beehives, entering and leaving through the bees' doors.