Darwin Days: Tuco-Tucos Six Ways (Ctenomys spp.)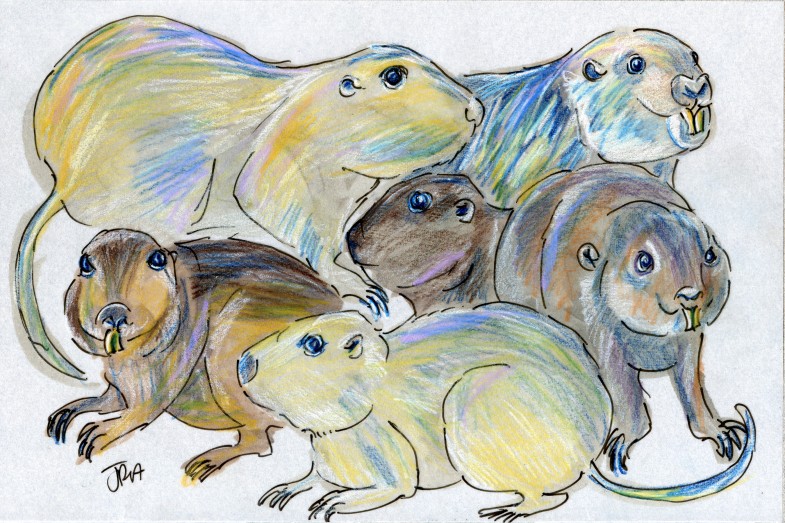 Numbers 0232, 0233, 0234, 0235, 0236, and 0237
The day after tomorrow, February 12, 2009, is Charles Darwin's 200th birthday. (It's also Abraham Lincoln's.) I've recently begun reading Darwin's The Origin of Species, and I've decided to try to do a little something in celebration of Darwin's immense contribution. I'm going to be highlighting a few mammals that Darwin discusses in The Origin of Species, and I'll try to tell you something of what Darwin says about them. Since I haven't read the whole book, I'm going to be reading the sections that mention these mammals out of order and a bit out of context, but I'll do my best, and maybe my more Darwin-literate readers can help out where needed. I also am pretty clueless as to where Darwin's ideas have been expanded or improved upon. Incidentally, the book is actually quite accessible, and I'm sorry I didn't read it earlier. You can read it online or download a PDF at Google Books.
Chapter Five of The Origin of Species is titled "Laws of Variation." In a section called "Effects of Use and Disuse," Darwin posits that the shrunken state of the wings of some birds on islands where they have no predators results from disuse. There's nothing to fly away from, so generations of birds stopped flying and used their legs more, and through natural selection their legs were strengthened and their wings, eventually, made useless. As another example, Darwin discusses animals that live in underground burrows and caves and have small, furred-over, or absent eyes, thanks to disuse. It's dark down there, so eyes aren't very helpful, and gradually, they are selected out, while things like longer whiskers and antennae, which are helpful underground, are favored.
The tuco-tucos, of which there are some 50 different species, live in burrows in South America. Although they spend a lot of time underground, they do occasionally peer out of their homes, and their small but useful eyes allow them to do that without necessarily having to actually exit the premises. It's easy for them to duck back under if need be. (The amount of time they spend outside their burrows varies from species to species.)
Darwin says that he was told by someone who caught a lot of tuco-tucos that they are often blind. A tuco-tuco that Darwin kept in captivity was blind, he says, thanks to an inflammation of the eye. As Darwin points out, animals that live primarily underground don't really need their eyes, and eyes are just another thing that can get infected, so why not do away with them? (Eventually. Over generations.)
Genetic analysis of one tuco-tuco species, the colonial tuco-tuco (C. sociabilis) yielded surprising results a few years back. For the past three millennia, the colonial tuco-tuco has had almost no genetic diversity. Usually, a lack of genetic variation means doom for a species, but the colonial t-t has survived pretty well. The reason, researchers think, is that it has evolved a very social way of life, unlike the other tuco-tuco species. If everyone is related, there's no reason to compete; instead, you can help your cousins breed, since they're passing on your genes, as well as their own. (In a practical sense, I think I would be more likely to get along with everyone if they were more or less my clones, too, but personality clashes are probably not a significant factor in the colonial t-t's survival.)
According to Walker's Mammals of the World, "Systematic understanding of this complex genus is in a state of flux, and it is likely that there will be much change in the number and relationships of species…" In this drawing of the goofy-looking guys, clockwise from the upper right are C. fulvus, C. sociabilis, C. flamarioni, C. talarum, C. peruanus, and in the middle, C. haigi.