Brush-tailed Phascogale (Phascogale tapoatafa)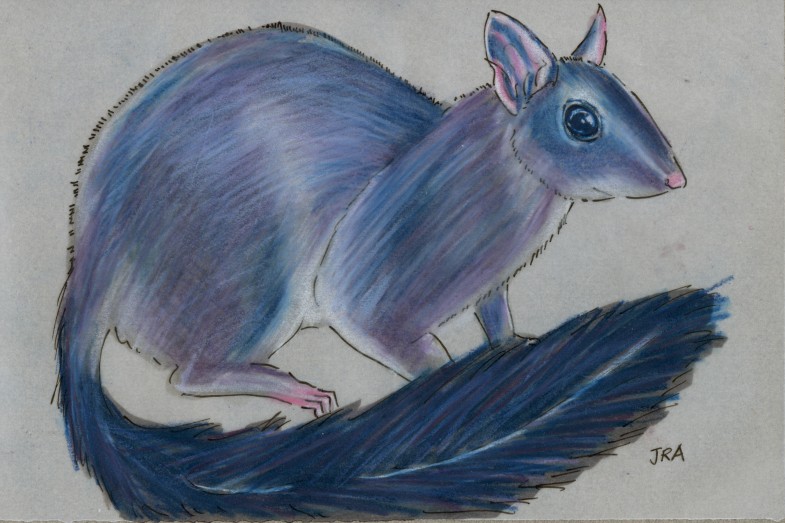 The brush-tailed phascogale (also called the tuan or the brush-tailed marsupial mouse) is a marsupial that lives in a few scattered regions around the edges of Australia. Brush-tailed phascogales (perhaps I'll call them BTPs) are arboreal, nocturnal, and solitary—in other words, they scamper around the treetops at night, all alone in the moonlight. They like to eat lizards, birds, insects, and small mammals like mice, and they're pretty agonistic, a zoological word meaning combative. BTPs can make a few different noises, and I like the way Walker's describes them:
"When disturbed, P. tapoatafa utters a low, rasping hiss, which apparently is an alarm note. When angered, tuans emit a series of staccato 'chit-chit' sounds. Sometimes, when excited, tuans slap the pads of their forefeet down together while holding an alert, rigid pose, thus producing a sharp rapping sound. At times they also make a rapid drumming noise by quick vibrations of the tail."
That all sounds quite similar to my daughter's 5th-grade band in their first week together after the teacher told them, "You can make as much noise as you want before you pack up."
The IUCN classifies the BTP as near threatened. Its numbers have been declining because of habitat loss and alteration and, to a lesser extent, being eaten by foxes and cats.